Minister of Environment and Climate Change, the Honourable Steven Guilbeault, hearing how Wild + Pine's Bioprism Advanced Vertical Greenhouse technology and a decade of forestry and oil and gas reclamation experience make us well positioned to restore land for natural-based carbon capture, to deliver Canadian high-quality carbon offsets, diversify our customer base, and to lead our nation in an emerging global market making real impact on the climate and environment – right here in Canada.
—
Without a doubt, net-zero has become dinner table talk as Canadians brace for the advancing heat and unpredictable weather of our summer season. For years, this term has been thrown around by scientists, large corporations, and the leadership of every major economy across the globe — much to the confusion of Canadian businesses without a direct link to the economics of the day-to-day.
Things have changed. I wish I could say you heard it here first, but that simply isn't true as the risk exposure of a changing climate and resulting business case has found its way into every RFP, budget, event, report, and boardroom. Net-zero is not a goal, it's a standard that has trickled down into the business of every Canadian; "good for the planet" is not the only case to be made in this global call to action.
Over the last two weeks, we have been peppered with information that supports the business case for net-zero. Whether it is the recent IPCC Report, Canada's Climate Plan, or the federal budget, a heavy weight has been placed upon the shoulders of our economy. The direction of this information is clear: government policies and funding opportunities are aligned to support solutions that address the urgency and science of our changing climate.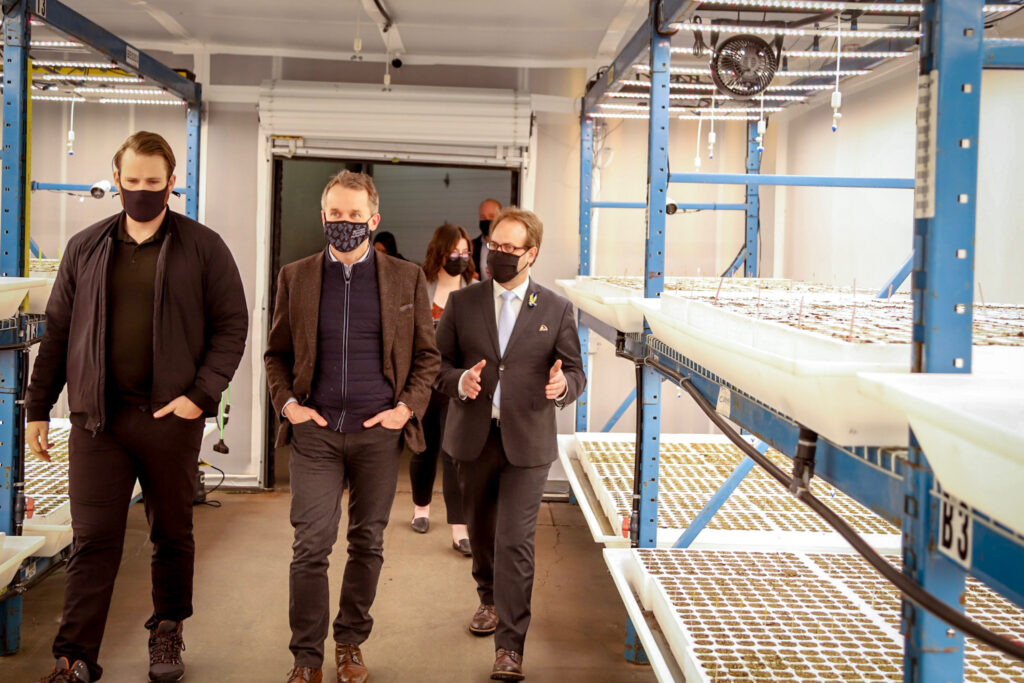 Minister of Labour, the Honourable Seamus O'Regan, seeing for himself how having a fully integrated seed to site supply chain has allowed Wild + Pine to hire full-time highly skilled labour rather than relying on short-term seasonal workers.
—
Why does this matter? Corporate alignment with this direction is reflective of intelligent investment and suggests an organization is in a good position to adapt to the emerging policies of our government or hiring clients. Whereas slow-movers are suffering contagious reputational damage that question the leadership of an organization.  Talent attraction and retention will suffer with a more conscientious and well-informed workforce. Acute climate care will become prevalent in every RFP, grant, and financing agreement of corporate applicants with the attention directed towards leaders in our business community.
Now what?
I do, however, approach this challenge with a great sense of optimism. The leaders in our public and private sectors are awaiting an industrial revolution of green technologies and community focused initiatives which our business community is well positioned to deliver on. In the face of uncertainty, action has simply become a sound business case for net-zero and the urgency of a changing climate presents a generational opportunity to stand out amongst the crowd.
– CK